This Nonprofit is on its Way
A simple social media post changed the course of the nonprofit Marta Blanco founded forever.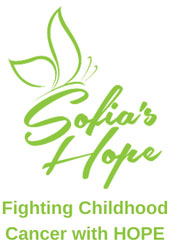 A simple social media post changed the course of the nonprofit Marta Blanco founded forever. The post was an invitation to a wine and cheese event in the founder's home, but the message became so much more.
A dedicated supporter of Sofia's Hope had enthusiastically shared the invitation almost 10 years ago when the nonprofit was in its early years. This caught the eye of Jamie Doherty, a community leader, successful IT business founder, and celebrated local philanthropist.
"I can remember clearly. I was in Target," Blanco shares with a laugh. "They asked, 'would that be okay with you?' I mean, yes! This gave me the impetus to say this nonprofit can really be something. I can now really go somewhere with this."
In a twist straight out of a nonprofit fairy tale, Doherty pledged an annual gift of $10,000 and to fundraise whenever and however he was able. This initial connection has grown into a powerful philanthropic partnership since 2015.
"For me it was just an absolute godsend to have him choose us," Blanco said. "It's huge. Sofia's Hope would not be where it is today (without Jamie)."
Doherty expressed with Blanco his deep desire to help children. Blanco, who founded and has operated the grassroots Sofia's Hope organization out of her home for nearly a decade,  immediately connected to his philanthropic drive. Blanco lost her teen daughter Sofia to Non-Hodgkin's Lymphoma in 2012.
While a small organization, Sofia's Hope achieves a tremendous, multi-dimensional reach. This nonprofit provides gift cards, art therapy, horse riding camps, and other supportive programs for patients, siblings, and families enduring a childhood cancer journey. In addition to increasing awareness of childhood cancer within the greater Miami area, Sofia's Hope now includes virtual tutoring and other services that extend nationwide. Today Sofia's Hope comforts 2,000 families each year.
This nonprofit also funds research into pediatric cardio-oncology, a rare scientific niche. Blanco directs a portion of fundraising dollars specifically to this area, after Blanco's daughter Sofia succumbed to heart damage brought on by her pediatric cancer treatments.
With Doherty's enduring support, achieving goals like sponsoring the first international pediatric cardio oncology conference is now achievable.
"It's not funding a lab or that kind of research. It's about the dissemination of information," Blanco explained. "We raise money to publish studies and pay for medical editors. It's all of these things I never thought we could do."
In addition to his annual generous Major Gift, Doherty also sponsors a yearly gala to raise money for Sofia's Hope. The Denim & Diamonds event is held every September to mark Childhood Cancer Awareness month. This gala has generated nearly $170,000 since 2017.
Doherty is not only actively involved in selecting the food, entertainment, and decor for the event, but also provides crucial support selling tickets and securing sponsorships.
"There isn't a detail in which he does not have input. He's really passionate to make (the event) bigger and better every year while maintaining the focus on childhood cancer," said Sofia's Hope when nominating Doherty for the 2022 James W. McLamore Outstanding Volunteer Award from the Association of Fundraising Professionals in Miami.
Doherty does not just raise money for the cause, but he is also a trusted volunteer leader. Doherty currently serves as the Vice President for Sofia's Hope and volunteered on the committee to award college scholarships to childhood cancer survivors. Doherty also sponsors laptops for all scholarship recipients, now numbering more than two dozen computers.
"His philanthropy has inspired other colleagues and businesses to get involved in their community," Blanco said. "He has really inspired people."
For Blanco, Doherty represents the untapped potential living inside of volunteers at any nonprofit. The long-time donors, loyal advocates, and regular event attendees at every organization contain within them a deep connection to the causes they love. What it takes is for nonprofits to reach out and connect.
"You have to focus on what your mission is and truly why you are doing it," Blanco advises. "Talk to everyone you see because that's how it spreads. Sometimes we stop ourselves based on what we know or don't know, but don't be afraid to ask."