Description
Do you want to…
Raise twice as much money at your next fundraising event?
​Find a steady stream of major sponsors for your events?
Sell more tickets to your events than ever before?
If so, keep reading to find out exactly how without any extra stress or hassle.
This course will help you double the amount you raise at your next event, help stop spending so much time and energy on your events without seeing results, and make your next and every event you hold be an amazing success.
Why Every Fundraiser Needs this Program
The truth is that most non-profits are holding way too many fundraising events and wasting time on every event they hold — while raising far less than they should be! This goes for small and large nonprofits.
We'll teach you how to harness the strategies of the most successful non-profit fundraising events on Earth to raise more money at your next event than ever before.
Joe Garecht has spent the past 20 years helping non-profits raise more money than ever before. As a development director, executive director, and well-known fundraising consultant, Joe has helped hundreds of non-profits hold thousands of successful fundraising events.
This one-hour recorded webinar is packed with useful action items you can put to use today.
Your benefits from this program.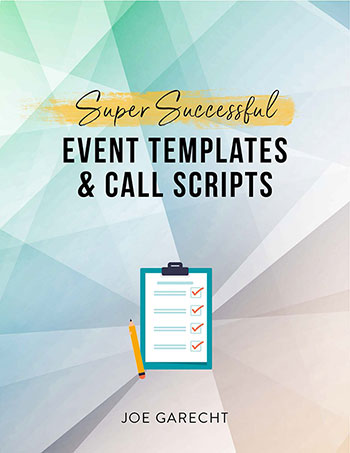 Hold the Best Fundraising Event in the History of Your Nonprofit.